---
Information on Lesson
---
TAKADANOBABA STUDIO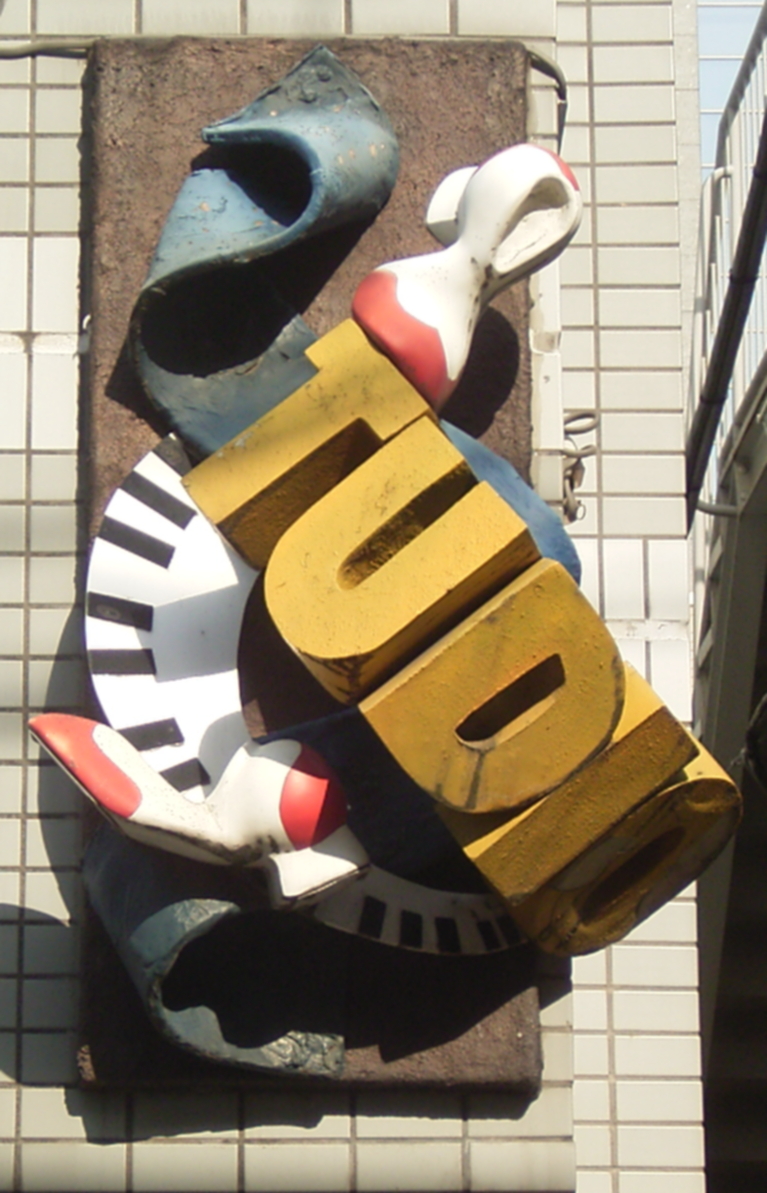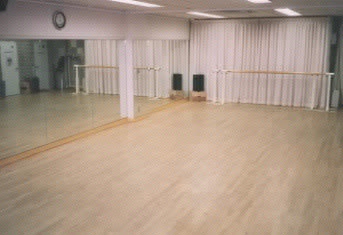 The Takadanobaba studio was closed in May, 2017.
We thank for having had a person of many, going use it heartily until now.
Have you decided on the studio where you can realize your dancing scene in 2010? This studio features its superb quality in its floor system: it is provided with the state-of-the-art floating wooden floor system. People of all occupation; students, office workers, house-wives, etc., are enjoying dancing here. Why don't you come on in and find out how they are enjoying? Of course, we welcome your coming for getting experience attendance.

LOCATION OF TAKADANOBABA STUDIO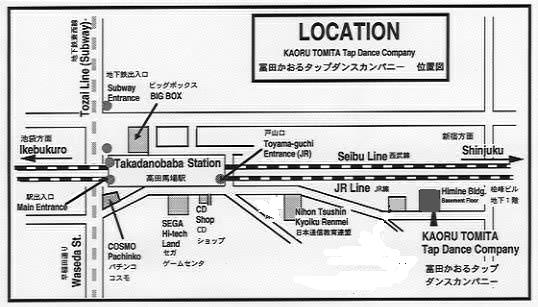 B1 Floor, Himine Building, Takadanobaba, Tokyo, Japan 169
Tel 03-3365-0304/Fax 03-3365-3044
The tender dance floor is waiting for you!
You can enjoy dancing on the wooden floor!
In is located very near Takadanobaba Station (JR; Seibu Shinjuku Line; Tozai Line of Subway )
3 to 5 minute walking distance.

OPEN
Weekday: 10:00-22:30
Saturday: 10:00-19:30
National Holiday: As usual

FEE
1. Membership fee: 10000yen
2. Lesson fee:
Kinds
Fee
Good for
Remarks
1 ticket
2200yen
1 lesson
5-lesson card
10000yen
2 months
from purchase date
10-lesson card
19000yen
2 months
from purchase date
1-month card
38000yen
1 months
from purchase date
Any number of lessons
Taking a lesson for experience, or observation attendance is always accepted without any reservation.
1500yen for taking a lesson for experience.
Free-of-charge rental shoes are available.
Please bring with you a towel and any clothing that allows you easy movement and absorbs perspiration well.
LESSON SCHEDULE
<TAKADANOBABA STUDIO>
MON
TUE
WED
THU
FRI
SAT
SUN
1・3・5TUE
2・4TUE
JAZZ
11:30-13:00
NANA
TAP
OPEN
11:30-13:00
KUNIE
JAZZ
11:30-13:00
SHINKO
TAP/Basic
10:00-11:30
(1・3・5SUN)
KUNIE
(2・4SUN)
YUMIKO
TAP
Basic
13:15-14:45
KUNIE
TAP/Beg.
13:15-14:45
(1・2・3WED)
NANA
(2・4WED)
KAORU
TAP
Basic
13:15-14:45
KUNIE
TAP
Basic
13:30-15:00
KAORU
TAP/Beg.
12:00-13:00
(1・3・5SUN)
KUNIE
(2・4SUN)
YUMIKO
TAP
Bas.-Beg.
15:00-16:30
KUNIE
BALLET
15:00-16:30
FUYUCO
TAP
Beg.
15:00-16:30
SHINKO
TAP
Beg.
15:30-17:00
KAORU
Rehearsal
TAP/Kids
Beg.
17:00-18:00
KAORU
HIPHOP/Kids
Bas-Beg
17:00-18:00
MAMI
*1
TAP/Kids
Int.
17:00-18:00
KAORU
*1
TAP/Kids
Basic
17:00-18:00
KUNIE
JAZZ/Kids
Bas-Beg.
17:00-18:00
YUMIKO
Rehearsal

Rehearsal
TAP/Basic
19:00-20:30
KAORU
*1
STREET
18:30-20:00
MAMI
*1
TAP/Beg.
19:00-20:30
KAORU
*1
TAP
Basic
18:30-20:00
KUNIE
TAP
Beg.
18:30-20:00
KUNIE
JAZZ
18:30-20:00
YUMIKO
TAP
Beg-Int
20:30-22:00
KUNIE
BALLET
20:30-22:00
FUYUCO
TAP
basic
20:30-22:00
YUMIKO
*1 This class close at the national holiday.
OUTLINE INTRODUCTION OF CLASSES
Tap Dance Basic Class
This is a class especially designed for those who want to start learning tap dancing for the first time. The basic steps are taught in a careful and enjoyable manner.

Tap Dance Beginners Class
In this class, the basic steps are freely combined to achieve a more enjoyable sequence of dancing. You will also be dancing in wider floor space, which will assure you doubled enjoyment.

Tap Dance Intermediate Class
It is an exciting class which even professional dancers and instructors are also coming to attend.
One of the features of the class is that abundant time is allocated to solo-dancing through which rhythm expression can ideally be learned.

Jazz Dance Class
The class level is for "Basic" and "Beginners". It is intended in this class to teach basic dancing technique and also to give learners a enough training in building-up fundamental bodily strength. The choreography used in the latter half of the class varies every time accompanied with varied music, which liberate your body and mind.

Classic Ballet Class
The class level is for "Basic" and "beginners". The class teaches you how you can comfortably tighten your body by dancing to classical music.
It is an ideal class to learn to keep body balance.